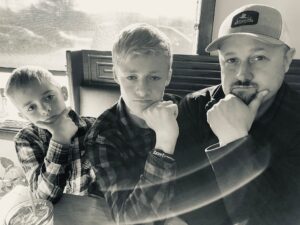 SUMMER SABBATICAL REFLECTIONS #1
I am less than a week into my first ever sabbatical. That's right. That's how amazing my congregation is. Before I even came here, they decided every seven years their full-time church workers needed a 3-month sabbatical. So here we are. The question before me this week has been, how do I do this? To be honest I'm not even sure? Where does my life as a redeemed disciple of Jesus end and my life as a pastor begin? Does this line even exist? Should I even try to delineate these callings?
For example, every week this year I have been attending Pastor Dan's Thursday morning Bible study with my son Zane. I go for three reasons.
#1- Personal Edification and Growth
#2 – Discipleship of my sons.
#3 – To be present as a pastor of Zion.
So when this Thursday rolled around, the question was, "Do I go?" Is this proper "sabbatical-ling?" My conclusion? I am not taking a break from God. So I went with both of my boys and it was wonderful.
After a full week of catching up with chores around the home I am spending this morning in reflection and prayer and all I have concluded so far is. God is good and so is the congregation I serve. The rest is yet to be seen.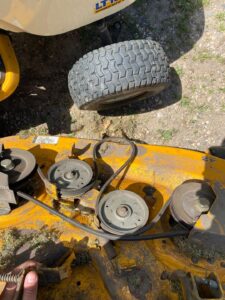 SABBATICAL REFLECTIONS – #2
"What does a Sabbatical provide a pastor?"
Coming into Sabbatical I would have thought that a Sabbatical provides a break from the ongoing care of God's people. So far, my experience has been the opposite. With the time God has provide to reflect and be still, my thoughts have been constantly wandering to those in my church family. I have had more meaningful conversations and have spent more time in prayer for people. This experience has led me to the following realizations.
Sabbatical has provided a respite from the pressure of constantly balancing life. Like all people, the pressure of my own callings, as husband, father, pastor, etc., are constantly putting me in moments of conflict. What do I have time for? Am I honoring my responsibilities? If I do this, will I have time for this? If I commit to this, will I be home for my family? It often seems like while I am serving some, it comes at the expense of others.
I do not believe this struggle is unique to the pastor's life, but I do believe that many pastors have a hard time setting healthy boundaries. The pressure to do more, give more is great and the limits, if there are any, must be self – created. This is no easy task, because who do you say no to? Your congregation? Your family? God?
In the pastor's life, any boundaries that exist are self-imposed. There are no regular hours. You are free to work as much as you want and there is always more to be done. Sabbatical has allowed me a minute to breathe. I have been able to focus on things I've wanted to do for a long time but have always ruled out in service to greater needs. Sabbatical has provided an opportunity to visit with brothers and sisters in the congregation with no deadlines or pressure. This has been an incredible blessing and I've enjoyed my time with people I have come to consider as family. I even had time to sharpen my lawn mower blades. What a gift!
The second thing Sabbatical has provided is relief from the scrutiny of public life. I have always struggled to describe this part of the pastor's life to people. I have a friend and fellow pastor who stepped away from the ministry to move closer to his parents. After a year away from full-time pastoral ministry I asked him how it was. He told me that the "noise had gone away." I don't expect this would make sense to anyone, but to me it made complete sense. The word I have used to describe the same phenomenon, was that the Pastoral life has a certain weight to it.
Now being on Sabbatical and taking a break from the "noise" or "weight" of full-time ministry, I have a slightly different way of describing this. I would say that Sabbatical provides a quieting of the scrutiny. (Scrutiny is defined as a critical examination or observation)
Every person lives their life under a certain amount of scrutiny. From family members, a few close friends, a boss or some co-workers. But rarely does anyone say anything to you out loud. A pastor's life is under constant scrutiny from everyone within the church and outside the church and the longer you serve some where the more comfortable people get communicating the results of their critical examination and observations (both positive and negative). By the way, I believe this is understandable, normal and good. A Pastor's words, work and life should be critically examined and observed. It's just part of the deal. The problem is there is no break from it. And it's not just the pastor who is under the microscope, but so is their family.
I know that Sabbatical doesn't remove the scrutiny. The very act of being on Sabbatical is being scrutinized even as I write this. I assume that if you are reading this, you are currently scrutinizing my observations on scrutiny. This is just the pastor's life. What sabbatical has provided is a relief from being under the weight of it for a little while. This is also a gift.
So that's all for now. The journey continues. Thank you, Lord, for this time and thank you Zion for your loving care for me as your pastor.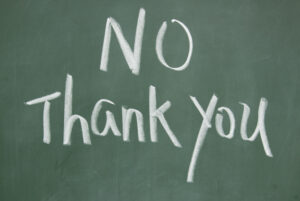 Sabbatical Reflections #3
"No". This word conti

nues to roll around in my mind.
The word keeps coming up, because of a book I've been reading by Rev. Matthew Rueger called "Sexual Morality in a Christless World." I'm not sure how to approach these issues around sexuality and gender. In these issues, do you find it difficult to understand where people are coming from? I would think we all want to be better at this, especially when talking to those who don't know the truth of God's Word.
In his book, Rev. Rueger observes, "The damage done to individual lives and to society as a whole by sexual immorality seems obvious to Christians. But it is not obvious to those who are immersed in it. In fact, many of those who champion acceptance of diverse sexual expressions believe that sex without love, fidelity, or lifelong marital commitment is a virtue. (p. 40)"
This might be too simple, but in the Christian Church it just seems like we need to get more comfortable with hearing false things, concluding they aren't God's Word and saying… "No." Not in a rude or jerkish manner. Not as a club of judgment or superiority. Maybe not always spoken out loud, but simply as a reminder, so when the waves of cultural hedonism (The pursuit of pleasure; sensual self-indulgence) crash into us, they break harmlessly upon the truth of Jesus.
Do we have to reconcile these different views of the world? Is it our job to fix the way other people think? Maybe it's enough to just plant the seeds of his truth. Maybe this just starts by being willing to say, "no."
When I really stop and think about it… It's not that hard. Just cling to His truth and say no to the rest. For example, We believe marriage is a God thing, designed for a purpose larger than our own individual happiness and pleasure. It's just true that the culture teaches differently, stripping marriage down to a more inclusive institution. Marriage is promoted as a commitment made between two people who love one another. This sounds nice, but "No."
This new definition is only a shadow of God's gift of marriage. What God designed is for one man and one woman. It is a life-long commitment of sacrificial service where individuality is set aside for a higher purpose. The two become one and this is a good thing. And then He uses this relationship as the foundation for raising children.
Marriage has obviously become two different things, so why is it so hard to look at something false and say, "no."
A few paragraphs later Rev. Rueger, using the example of the early Christian church, helps us see why it's hard to say, "no."
"Though Christian morality promoted genuine self-emptying love and was positive for society, it nonetheless set Christ's people against prevailing culture. Romans did not like being told that some of their favorite activities were displeasing to the Christian God, and they pushed back. Still today, proponents of sexual immorality are not content to practice their ways behind closed doors; they demand public approval. In the first century, when Christians refused to approve, they became enemies of humanity itself in the Roman mind. (p. 41)"
I think we are uncomfortable with saying "no" to the world because who wants to be treated like the enemy. People get pretty upset about these issues and it becomes fair game to bash and persecute those who disagree. We aren't used to this treatment.
Paul and the early Gentile churches were teaching and proclaiming a radically different view of sexuality and the role of men and women. It seems like they had to get comfortable with saying, "no.", starting with their own personal repentance. They did it and it was better. I believe the proof is in the pudding.
Let's take marriage again. What sounds more virtuous? A marriage based on the amount of happiness you get from your spouse or one that is founded with the words, I will serve you for better or worse, richer and poorer, sickness and health, to love and cherish until death do us part?
You can clearly see that the world's approach to marriage is founded in selfishness and God's way is founded upon sacrificial selflessness. You know this. You've witnessed it, maybe experienced it. So how does selfishness usually play out in relationships? How many marriages have ended with the phrase, "I'm not happy and I deserve to be happy?" How many relationships never even get to marriage as people try out one another on to see if they are a good fit, only to conclude they aren't.
We know and can trust that God's ways are best. We also know the struggle of sin (Going our own way). I just think we need to get more comfortable with not fitting in and saying, "no." When it's not God's way, the answer is, "no." I know it seems harsh, so maybe a little more Minnesotan would be helpful… "No Thank you."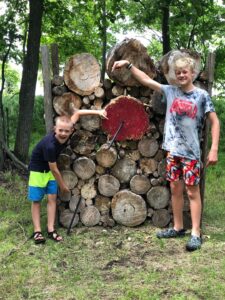 Sabbatical Reflections #4 – THANK YOU LORD FOR LUTHERAN ISLAND CAMP
There is no such thing as a clean break when it comes to a sabbatical. When I began planning for this summer, there were previous obligations and commitments to consider. One such consideration was my commitment to serve as Pastor of the Week at Lutheran Island Camp's July Family Camp. After prayer and conversations with Emily, we decided to keep this commitment. We concluded that the camp is just starting to regain momentum after COVID and they seemed to be struggling to find pastors of the week. Plus, I surmised that the time away with my boys would be blessed.
Praise the Lord for leading us to this decision. There were so many blessings that it would be difficult to recount them all, but here are a few things the Lord made evident.
#1 – Lutheran Island Camp has a bright future. Not only did camp survive the tumultuous time of COVID and transition, I believe the Lord has led LIC to place where it will thrive into the future. God has blessed the new leadership throughout camp and new life is evident from the moment you arrive. I encourage you to consider camp as a place for future ministry and as a partner in the faith development of your children.
#2 – Being present with your family is a powerful thing. I have served as Pastor of the Week numerous times in the past, but I always did so as Senior Pastor of Zion. Since camp is only 45 minutes away, I never really stopped working. When I wasn't fulfilling camp responsibilities, I was preparing sermon's, planning bible studies, making calls, coordinating ministries, answering questions and replying to texts and emails. I set aside time to hang out with my family, but it was limited. This year, I only had camp responsibilities, which are minimal at Family Camp. This provided me an abundance of quality time with my family. No phone, no computer, no responsibilities. We played, we swam, we laughed and learned life lessons. We fought and forgave one another. We met wonderful families from all over the country. We even caught a giant dogfish. One of the biggest lessons of my entire sabbatical so far has been the importance of being present in the moment. When you are home with the family, be home with the family. I need to learn to put my phone away, turn off the TV, close the books, and just be with them. There is power in attention and time devoted to your loved ones. I believe this is the Lord's will for me as a husband and father and for you in your various family vocations as well.
#3 – We are on the right track at Zion with a commitment to Family Discipleship. In many ways, this camp was like a petri dish for family ministry. I observed families both intentionally and unintentionally teach the faith to their children, grandchildren and great-grandchildren. I watched the Lord bless families related by blood and families created by Jesus through Baptism care for and fellowship with one another. Some of the campers there have been coming to Family camp for 60+ years. Generation after generation are present and new families have started as a result of these ongoing relationships. The children of these marriages are evidence of the power of family discipleship. Many campers, youth and adult alike, expressed that their favorite time of Family Camp every year is the daily hour-long bible study. I watched grandparents impart wisdom to their grandchildren and other children. I watched as God's word worked to bring about reconciliation within families. All of this happened with a very simple camp schedule. While times were set aside for singing, devotion, bible study and a few planned activities, every day was primarily focused on family free time. This time was both cherished and enjoyed. Evident at the center of it all was Jesus. It was a beautiful thing and need not be limited to the confines of the Island.
#4 – I'm not as young as I used to be. I think this is self-explanatory.
May the Lord continue to bless you all. Thank you again for this time you have gifted to my family. My whole family misses being with you and look forward to our return.
PS – A special thank you to

Stacy Lung

and All the rest of the staff and Lutheran Island Camp.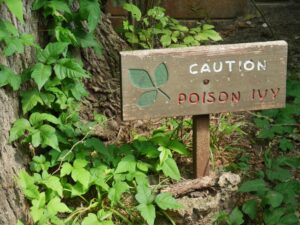 Sabbatical Reflection #5 – POISON IVY
Maybe you know the saying, "Leaves of three, let it be." This wisdom of this proverb warns against… Poison Ivy!
A few weeks ago, I got a little carried away with some yard work and forgot to be aware of the dreaded "leaves of three". This led to a week and a half of pain, itchiness and discomfort. The worst part of the breakout was it kept spreading. Just when I thought I was done, I would either touch something with the evil Urushiol Oil on it or scratch and spread it during the night. I just couldn't get it under control.
The experience was miserable and disheartening and exactly like sin in our lives. This is what the Lord put on my heart about halfway through the misery. Every time my skin was screaming at me to itch it, I thought of the nagging discomfort of sin. Every time I woke up in the middle of the night hoping I hadn't touched my face I was reminded of the worry and anxiety that stems from sin. Every time I was a crabby man to family, I remembered how sin turns you in upon yourself at the expense of others. Every time I wondered when this would be over, I was reminded of the ongoing curse of sin in our lives and that like Urushiol Oil, I would never get it under control.
Sin is so easy to get all over us. The Lord has given us warnings of what to avoid. But with sin there aren't just "leaves of three", rather "leaves of infinity". Pesky things such as Idolatry, Pride, Envy and on and on. Just like Poison Ivy, sin spreads into other sin. It makes life, work, marriages, relationships and all the rest miserable and disheartening. So often it seems like there is nothing that can be done. Poison Ivy is just like sin in so many ways, except one.
Sin has been dealt with by our Lord Jesus on the cross. While there are still "leaves of infinity" to avoid in life, even the worst of cases of sin have been redeemed and can be forgiven today. Jesus promises to bring new life in the midst of sin and has given this work to His church. That's us.
When you serve in a place for 7.5 years you witness a fair amount of sin, and you sin a fair amount. This sin is found in others and sadly in yourself. My case of Poison Ivy gave me time to reflect on the effect of sin in people's lives and in my own.
There are some reading this right now, whom I've hurt or sinned against and I may not be aware of this. My prayer is that in the months to come we might experience reconciliation and new life and healing. There are some reading this right now who are living through sin's misery in the brokenness of a relationship. My prayer is that you seek the one who can make all things new. Jesus can do amazing things when we step aside. There are some reading this right now, who are living under the burden of unconfessed sin. Come to church, meet with a pastor or fellow Christian. Confess your sin and be forgiven. This is such a blessed gift the Lord has given us.
This summer, we have been worshipping at different congregations in the community and we have received absolution only twice this summer. I never realized what a profound effect this would have on my spirit. I asked my children last week, what have we been missing at worship all summer and with no hesitation they replied, "Confession and Absolution." They are feeling it too.
Praise God my poison ivy has finally run its course. In reflection, I am grateful to have experienced it because it left me praying for all of you as your run your course in life. My prayer is that as you struggle with sin, you daily seek Him who brings peace and new life. My prayer is that you would experience the joy of abiding in Jesus who alone can deal with the pain and misery of sin.
Sabbatical Reflection #6 – CONTENTMENT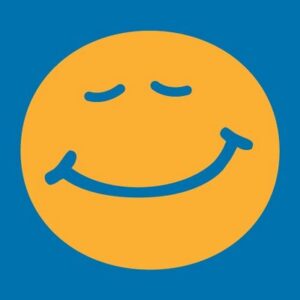 I'm not a content person by nature. My wife describes me as a person who lives 5 years in the future. I've come to realize after 20+ years of marriage, this is a super nice way of encouraging me to live a little more in the present. While being able to live in the future can be a gift, if I'm honest with myself…. most of the time it's just sinful. This constant seeking what could be, often leads to unrest and anxiety.
Over sabbatical all my ambitions both professionally and personally have been put on hold. Professionally they have been paused because I am not actively Senior Pastoring. Personally, they have come to a halt because the price of everything is out of control. My great plans to build a cabin this summer were sunk by the price of gas. All my plans for sabbatical are off kilter. Traveling anywhere is probably not doable. I realized this last week that this is frustrating me. This is not going as I had planned. And herein is the problem. Once again the illusion of control has been shattered.
This is a familiar theme for the Apostle Paul in Scripture. In Philippians 4:12-13 he writes,
"I know what it is to be in need, and I know what it is to have plenty. I have learned the secret of being content in any and every situation, whether well fed or hungry, whether living in plenty or in want. I can do all this through him who give me strength."
What he doesn't say in this passage is how he learned these things. My educated guess is that he learned them through his experiences living as an Apostle of Jesus Christ. He describes this life in 2 Corinthians 11:24-28…
Five times I received at the hands of the Jews the forty lashes less one. Three times I was beaten with rods. Once I was stoned. Three times I was shipwrecked; a night and a day I was adrift at sea; on frequent journeys, in danger from rivers, danger from robbers, danger from my own people, danger from Gentiles, danger in the city, danger in the wilderness, danger at sea, danger from false brothers; in toil and hardship, through many a sleepless night, in hunger and thirst, often without food, in cold and exposure. And, apart from other things, there is the daily pressure on me of my anxiety for all the churches.
This is quite a list of moments where Paul's life was out of his control. These experiences while living in a broken, cursed world brought Paul to a few realizations about truth and life in Jesus. He shares one such realization with a brother leading churches through sinful struggles. He writes in 1 Timothy 6:6-8,
But godliness with contentment is great gain, for we brought nothing into the world, and we cannot take anything out of the world. But if we have food and clothing, with these we will be content.
We confess weekly in worship that our hearts are constantly at war with the Will and Word of God. The question is do we make a connection to this constant struggle and our discontentment. I think Paul hits it on the head when he says, "we brought nothing into the world, and we cannot take anything out of world." It's just another way of confessing, "You are God and we are not." This confession is the beginning of repentance and the daily blessing of reconciliation.
The world defines contentment as a state of happiness and satisfaction. The Christian defines contentment as those moments where we give up control long enough to trust fully in Jesus. These moments where we set ourselves aside in repentance and abide in Jesus bring incredible peace and contentment. I would assert only Christians even know what I am talking about.
I don't anticipate a day where any of us will ever overcome this struggle, but I do anticipate a day when this struggle will be finally overcome. Which is why I invite you to pray with me, "Come Lord Jesus." In the meantime, why don't we work at reminding one another to turn to the only one who brings peace and contentment… Jesus Christ.
In His Grip,
Pastor Guy Roberts
Sabbatical Reflection #7 – DIFFERENT, BUT BETTER!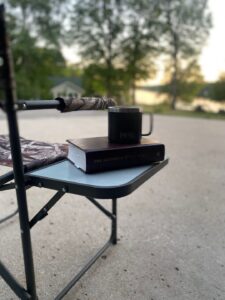 Sabbatical is quickly coming to an end. As I start to re-engage, many of you have been asking me, "How has it been?" Quite honestly, this has been difficult to answer. I still haven't wrapped my mind around the experience. While it has been an incredible blessing, it has been nothing like I imagined it to be.
Eight years ago, when I accepted the call to serve as pastor of Zion, I imagined a fall sabbatical. In my mind it looked like a truck commercial, with me sitting in a tree stand, or hiking through elk country or following my dogs through golden fields of CRP. But as often is the case, God had something different in mind.
Summer, not fall, ended up being the best time for a sabbatical for both the church and our family. This fall is the best time to take long awaited steps into family ministry at Zion. The Lord also showed us that our kids were the perfect age for a father/son(s) summer. As it turned out, availability also opened in the Briard's construction schedule and we were able to move a fall remodel up to the summer. All of this meant we would be spending the summer at home, outside, with a garage kitchen.
I would've have never imagined spending so much of my sabbatical sitting in a chair in my driveway. And yet, this is how it's been. The Lord provided this beautiful spot and said, "Sit down." From this spot I've spent time thinking, reflecting, reading, praying, visiting with people, catching up with old friends and often doing nothing but being quiet and taking in the scenery. From this 10' by 12' spot, I have cooked meals, both gourmet and left over. Em and I've made big decisions for the future of our family, and I've made decisions about how to do ministry in the future. We've laughed, cried, been grumpy and generally lived a lot of our life, right in this one corner of our garage.
While this sabbatical has been nothing like I would've imagined, it has been exactly what I needed. The Lord provided rest, quiet, reflection and time with my family. Once again, I'm reminded that the Lord knows exactly what we need in life. For as we have learned from His word… we make our plans, but the Lord orders our steps. – (Personalization of Proverbs 16:9).
And as we read from Jesus in Matthew 6:8 – The Lord Knows what we need before we ask.
What has the Lord taught me? We never quite know what the He has for us, but we know it's what's best for us.
In His Grip,
Sabbatical Reflection #8 – Retirement Minded
This is my last week of sabbatical, and all kinds of thoughts and feelings are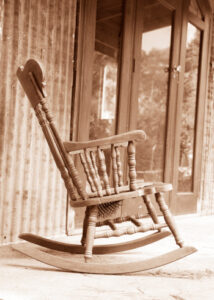 running through my mind. Such as, where are my pastor clothes? Or I wonder if they moved my office? Or how long will my first sermon back be? It could be a burner.
One question I've kind of answered has to do with retirement. I've always assumed I will be awesome at retirement, but after this experience I have a little different view of the whole deal.
You see, the first month of sabbatical was just wonderful. It was like an extended vacation. We did house projects neglected for years. I read, exercised, visited other churches, had campfires and I even slept in…once. But when July rolled around, I started to get a little restless. I started to miss the routine of getting up and wading knee deep into the lives of those I have been called to serve. I was missing purpose. I had to fight the temptation to stick my nose back in at church.
This last month has been less of a struggle, but in a good way. I've learned what I think is called abiding. I say I think, because this is one of those words that has a different definition, depending on where you look.
Merriam Webster defines it as, "To remain stable of in a fixed state."
Dictionary.com defines it as, "continue without change, enduring, steadfast."
Oxford Languages defines it as, "continue without fading or being lost."
And this is just the intransitive use of the verb.
Abiding can also be used to describe, "Accept or act in accordance with."
For me I think about it how Jesus used it in John Ch. 15:4, "Abide in me, and I in you. As the branch cannot bear fruit by itself, unless it abides in the vine, neither can you, unless you abide in me." Or in other words. "Only in Jesus."
Whether it is working full-time as a pastor, being on sabbatical or some far off future retirement, I think I better understand these words of Jesus. When I retire, I will not be able to just head home and turn the focus of my life inward. This just isn't the way of our Lord. I might not serve a congregation, but my life will be lived for others. Abiding in Jesus turns our eyes beyond ourselves to others. Abiding on Sabbatical is the same as abiding in retirement and will be the same as I wade back into the life of His people at Zion.
All of life is only lived in Jesus. While retirement is a transition, it's not really a transition from our purpose here in this world. It's just a chance to refocus and maybe say no to things you used to have to do.
Whatever stage of life you are living right now, I would encourage you to turn your eyes away from yourself and turn them outward. Reject the hedonism of this world and use the gifts and talents the Lord has given you to serve those in your sphere of influence. Whether this be family, neighbors, church or community organizations.
The truth is we have been given everything we could ever need. Jesus' death and resurrection brings us to a place where all we need do is abide. All the energy and time we used to spend trying to control things or saving ourselves, can now be used for the glory of God and the service of our neighbor.
What I have learned is being retirement minded is pretty much the same thing as living ministry minded, because all of it is lived only in Jesus.
– Pastor Guy