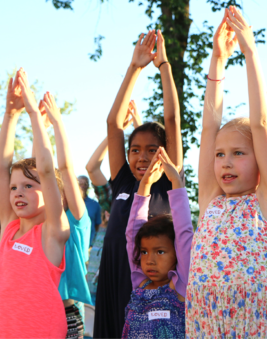 Relationship and God's Word
Zion Lutheran Church wants all youth and their families to know the love of Jesus and develop at relationship with Him. This relationship is anchored in God's Word. Through the leadership of the Family Ministry Team at Zion, several programs provide opportunities for youth and their families to know, follow, and serve Jesus.
Each program is designed to be fun and inspirational, while fulfilling the Family Ministry's Mission: Partnering with families to provide opportunities for every child to know Jesus Christ and to nurture his/her personal relationship with Him.
Children attending Sunday School at Zion Lutheran Church are blessed with a dedicated volunteer staff that has a passion for teaching about God's love.
Zion involves parents and guardians through planned Sunday School activities, often within the classroom.
In addition to a Christ-centered curriculum designed to complement sermon messages, each grade has an annual "Knowing The Word" goal. Teachers help the youth remember Bible truths and scriptures that build a foundation of faith and strengthen their personal relationship with Jesus.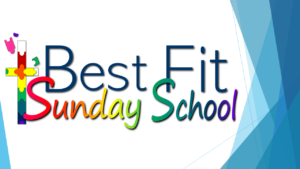 According to the comfort level of your family, you may choose to do this year's "Digging Into the Bible In One Year," Sunday School curriculum in a variety of the ways to "BEST FIT" your family!
Bible based activities, games, crafts & music!
Wednesday Night Family Nights!
Family Meal 5:30 PM – 6:00 PM
Breakout Lessons 6:00 – 7:00 PM
If you would like to teach this year's Sunday school curriculum at home as a family, we will help you! The curriculum packets are available to pick up in the Zion church office.
We pray that Zion will be "a HOME for your FAMILY" and that we can offer the "Best Fit" for you and your family to hear and grow in God's Word. For more details, contact our Sunday School Director Katelyn Haarstick at zionministryassistant@gmail.com.

FVBS – Family Vacation Bible School
5 summer days of building faith, learning about Jesus, celebrating friendships, and praising God…now that's a vacation to remember! Each year, the Family Ministry Team incorporates an adventure theme to let kids live some key Bible truths.

Confirmation
Confirmation preparation at Zion involves parents/guardians. Parental involvement in youth faith formation helps youth continue in and strengthen their faith. If you and your child are considering Confirmation Preparation, call the Zion office for more information. If you are an adult desiring to confirm your faith, contact the Zion office for more information.
What is Confirmation?
The purpose of Confirmation is to help confirmands:
Personally confess Jesus Christ as their Lord and Savior and take personal ownership in declaring, by the power of the Holy Spirit, their own allegiance to Christ
Eagerly explore the awesomeness of God and the mysteries of faith.
Identify themselves as members, as a unique and special part of the body of Christ, as Lutheran and members of a local congregation.
Regularly participate in public worship and the reception of holy communion, engage in personal and group Bible study and its application to life, strive to lead God-pleasing lives and offer services to God by serving others.
Celebrate the relationships that they have with God as their personal God who loves them graciously, their pastor and other confirmation staff people, their peers participating in the confirmation process, their family and other members of the congregation.
Our goal at Zion is to help confirmands and their families achieve this list. We do this by offering confirmation classes and youth activities. Parents and other adults play a powerful and important role in all of this. If you want to confirm your faith or you are a parent/guardian of a youth desiring Confirmation, contact the Zion office for more information.

Baptism
Baptism into Christ's Church is a child's first invitation into a relationship with Jesus. Zion Lutheran helps foster this relationship and includes the child's family as an integral part of cultivating this relationship with Christ.
If you are interested in Baptism or you are a parent desiring to have your child baptized, contact the Zion office for more information.

J Crew Youth Ministry
Zion's J Crew Youth Ministry meets throughout the year for fun, friendship and spiritual growth. They often take advantage of the beautiful lake area of Detroit Lakes with outdoor activities and adventures, as well as gatherings away from HOME.