Ministries for all ages with all types of families.

We encourage the entire family to be involved with ministry events, children's education and youth confirmation.
We help empower and enable parents to be an integral part of their children's spiritual development.
We believe parents and guardians are essential to spiritual development in kids.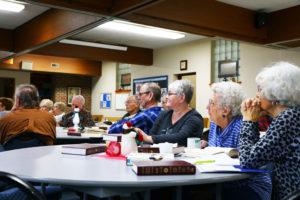 Zion has a variety of adult fellowship, service and educational opportunities. Adults find support, friendship and deepen their faith here, often with coffee and donuts.
We value our adult congregants as they help guide and support younger families. These disciples know there is no end to learning and following. A variety of educational opportunities exist.
We are disciples of Jesus Christ, baptized and redeemed.
We aren't a perfect people, just repentant, forgiven, and joyful.
We don't have it all figured out, but we know someone who does.
We believe "God's Got This!" and by "This" we mean He's got all the things
.
We gather to receive God's gifts every week.
We gather to give Him our praise every week.
We learn from Jesus. We value the Word of God. We care for one another.
BELIEFS & AFFILIATION
Zion Lutheran Church LCMS of Detroit Lakes, Minnesota is a confessional evangelical lutheran church. Its beliefs are centered on God's Word and the theology and doctrine of the Lutheran Church Missouri Synod LCMS. Click here to view this doctrine and these beliefs.
Zion Lutheran Church of Detroit Lakes, Minnesota is affiliated as a member church of Lutheran Church Missouri Synod www.lcms.org and of the Minnesota North District of the Lutheran Church Missouri www.mnn.lcms.org. Please visit these respective sites for more information.
MISSION
The mission of Zion is to equip all people through God's Word and Sacraments to be disciples (believers, learners, followers and sharers) of Christ.
Discipleship As Life = We live as disciples of Jesus at home, community and church. Following Jesus (being a disciple) is not PART of life, it IS life. We view it AS life.
Zion DL is here for you.
218-847-7630
1100 Lakes Ave