Join us on Sunday
8:00 Worship
Traditional worship available i

n person, live

on KDLM radio 1340 AM/93.1 FM.
9:15-10:00 Discipleship Hour
Join us for coffee & donuts at our all ages Bible Study, Pre-K-8th Grade Sunday School, & 9th-12th Grade Youth Discipleship!
Non-Traditional worship available i

n person and live

online via Facebook & YouTube, and Arvig channel 14 on Wednesdays at 4:00pm.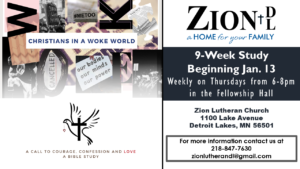 "Christians in a WOKE World"
What do words like "systemic racism, privilege, political correctness, woke, anti-racist, and social justice" even mean? And what does God's Word have to say about these issues?
Join us for this 9-week Bible study on today's "WOKE" culture. Register in advance to reserve your $14 study book!

New Here?
We'd love for you to worship with us in person or online. To learn about the ministries and events that Zion has to offer, you can start getting connected with us by contacting Sarah at zionlutherandl@gmail.com to subscribe to our weekly "What's Happening" email.
Calendar/Events
Check out our CALENDAR to see ALL of our upcoming Congregational Events & Discipleship Opportunities!

Monday – Thursday, 8:30 – 3